Best-value real estate investment for permanent residency in Grand Baie Mauritius
If you have dreamt of owning a slice of paradise, complete with spacious and luxurious accommodation while securing the best value real estate per square metre, you have come to the right place. Coastland Apartments, a boutique development comprising 35 chic residences, including five spacious penthouses, in Grand Baie Mauritius, offers compelling reasons to consider investing in the ever-popular north of the island.
Located close to the beach and convenient amenities, it is for sale to Mauritians and non-citizens, and is priced for permanent residency. Developer Signature Homes has an excellent track record of completing projects with impeccable finishes and outstanding value.
Their portfolio of sumptuous residences in the north includes Soleia 1, Soleia 2 and Soleia 3 and La Pointe Luxury Apartments. La Pointe Phase 1 will be delivered in July 2023.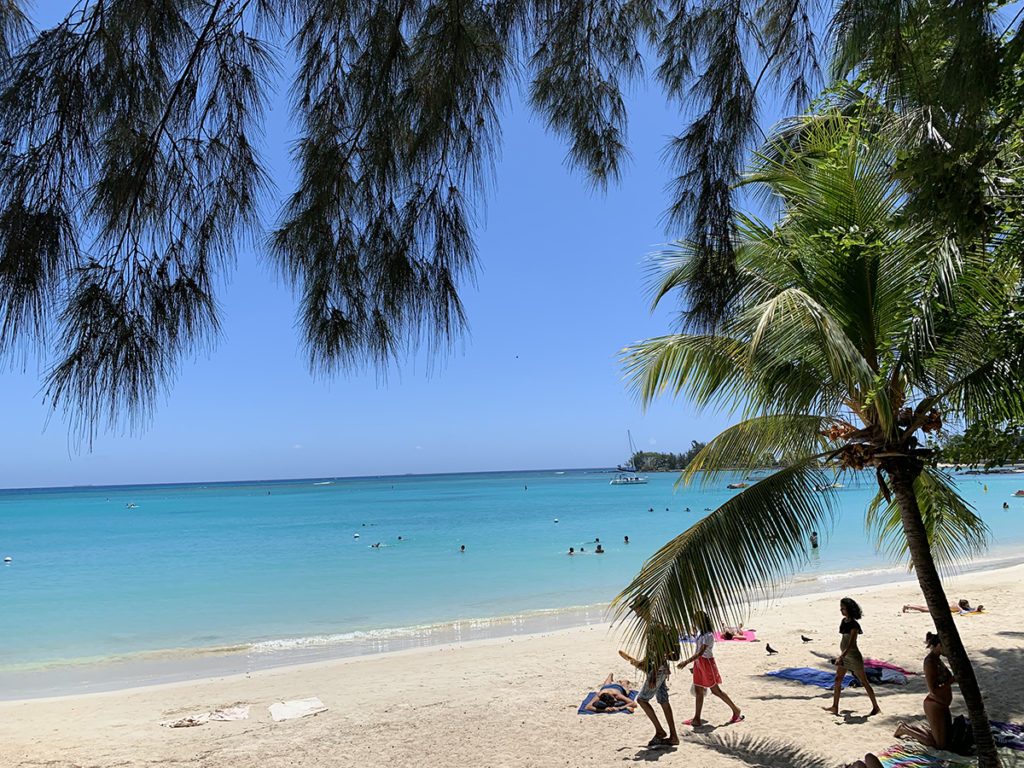 With real estate investment, the value per square metre is a crucial consideration. Dream island properties such as these often offer excellent value propositions, especially compared to their counterparts in metropolitan areas. Think space, privacy, an escape from the hectic pace of everyday life and the chance to bask in the serenity of nature's wonders – there are endless possibilities for relaxation and rejuvenation. The combination of spacious living areas, breathtaking landscapes, and limited supply creates a unique investment scenario. As demand for these exclusive retreats continues to rise, the potential for significant appreciation in property values becomes increasingly evident.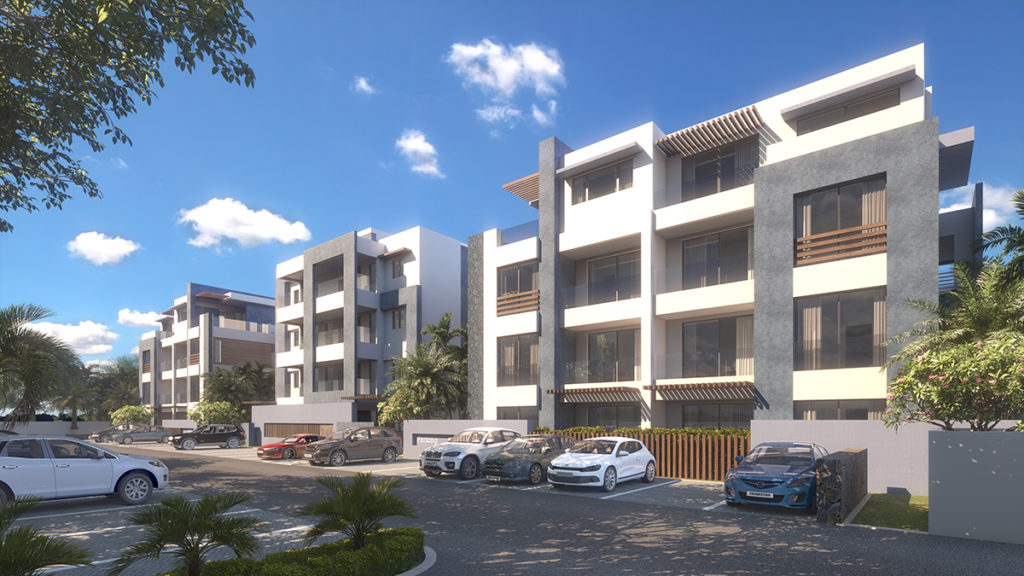 Exceptionally well-priced homes
Away from the commotion of everyday life, Coastland Apartments is a sanctuary, boasting lavish interiors with sleek furnishings, clean lines and neutral tones. Each apartment has a minimum two bedrooms en suite, sized from 140 square metres and starting at USD375,000, the minimum investment required to qualify for permanent residency. Three-bedroom, two-bathroom apartments are priced from USD400,000 for 155 square metres.
The master bedroom, with its floor-to-ceiling windows, bathes in abundant natural light, unveiling amazing views. It is an alluring haven, complemented by a spa-like en suite bathroom and a spacious walk-in closet. All bedrooms are air-conditioned. The penthouses have three or four bedrooms en suite, occupying a total area of 263 square metres and 303 square meters respectively and are priced from USD550,000more. An open-plan layout that seamlessly integrates the kitchen (fully furnished and equipped), dining and living areas establishes a remarkable space for gatherings with loved ones. The living area leads to a private plunge pool and splendid terrace ideal for al-fresco dining. The terrace is about a third of the gross surface area of each penthouse layout, maximising the sense of space of these exceptionally well-priced homes thoughtfully designed to optimise the flow of light and space.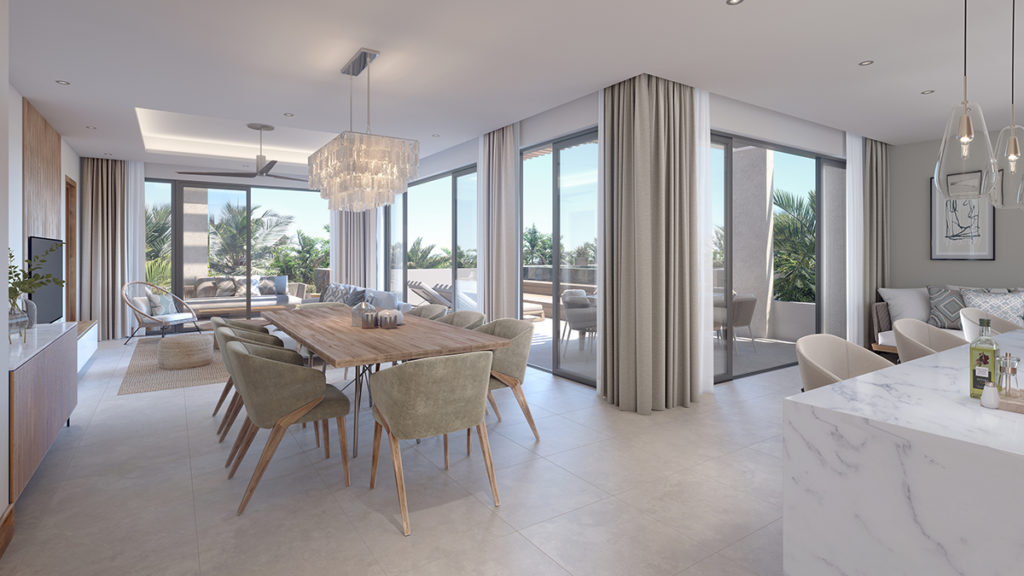 The units are generously sized and come fully equipped with modern kitchen appliances, adding value and convenience for potential buyers.
The design of Coastland Apartments accommodates enchanting vistas of the lush garden and the inviting swimming pool and deck, adorned with umbrellas and loungers, creating an idyllic setting for relaxation and socialising.
A 24-hour security service and a large car park for residents and visitors complement the facilities.
650m from the beach
Imagine waking up to the possibility of an early morning swim in the warm Indian Ocean, strolling along pristine sandy beaches, and immersing yourself in the tranquillity of an exclusive island retreat. Whether you're a seasoned investor seeking diversification or an aspiring entrepreneur passionate about luxurious living, investing in a dream island property offers many advantages.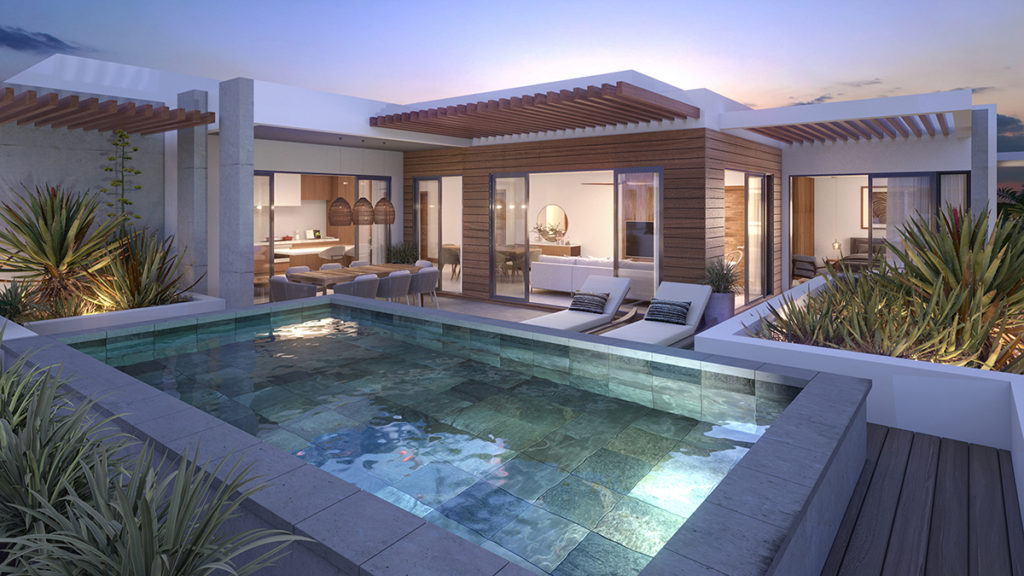 Anyone who has visited Mauritius or looked at investing in real estate on this scenic Indian Ocean island will know how popular the north is for tourists and residents alike. The Grand Baie infrastructure, from retail and entertainment establishments to medical, educational, business, and banking facilities, ensures access to everything essential for a well-rounded and fulfilling life. The beauty of this region is that you can immerse yourself in the pulsating energy of Grand Baie, a seaside town that has developed rapidly to keep pace with modern lifestyle trends, and then disappear to your quiet sanctuary in neighbouring Pereybere when you need a break.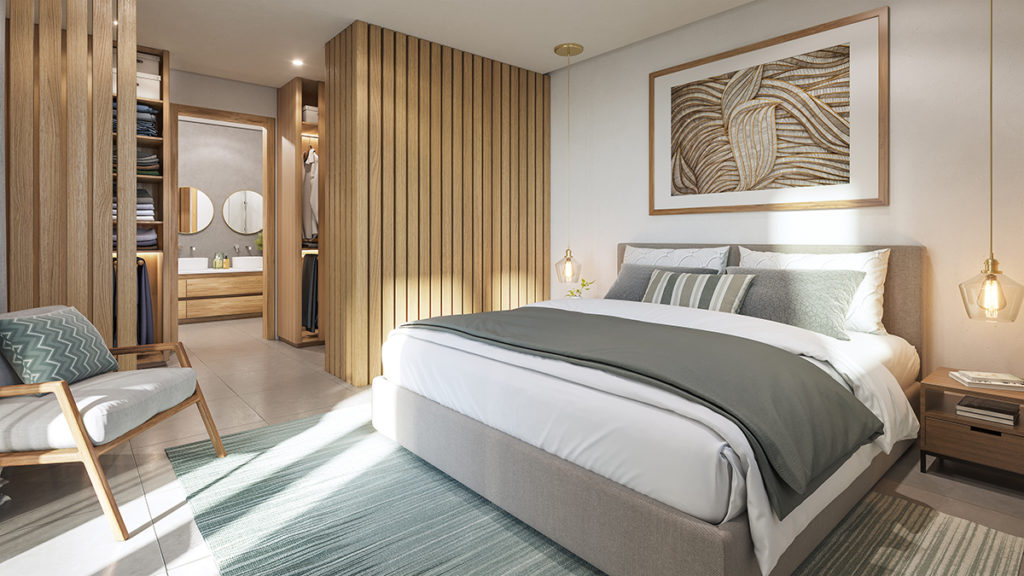 This is where you will find Coastland Apartments, just 650m from the beach, within sight of the tranquil ocean from the upper levels, and close to everyday conveniences such as grocers, streetfood vendors, pubs and clubs. Another bonus is proximity to the increasingly popular restaurant Bloom, which accommodates vegan options on a list of menu items that keep patrons coming back not only for the delicious food but because of the highly rated service, famous Mauritian hospitality, free Wi-Fi, ample parking and pet-friendly environment.
So, join us as we journey through crystal-clear waters, white sandy beaches, and unparalleled luxury. Investing in a dream island property at Coastland Apartments is the gateway to a world of opportunities, where spaciousness, opulence, and value per square metre converge to create a truly extraordinary investment venture.
Contact Severin Wild at +230 5727 3842 or email projects@pamgolding.mu for more information and to book your viewing.