Heritage Villas Valriche launches long-term luxury rentals in Mauritius.
Heritage Villas Valriche launches long-term luxury rentals in Mauritius. No matter which route you take to Heritage Villas Valriche, you can be assured of a sweet escape in Bel Ombre in the southwest of Mauritius. The villas-only collection is approved for foreign investment and sought-after by those keen on living the tropical island dream. One of the primary motivators for settling here is the genuine opportunity to disconnect to reconnect, escape the harried pace of city life, and find joy in nature.
The coastal road will lead you past some of the best kitesurfing spots near La Gaulette in the west, past the imposing Le Morne mountain and along a scenic coastline dotted with quaint fishing villages en route to the south. Driving from the centre of the island, where the land is elevated, and vegetation is lush, you can take the road past the Mare aux Vacoas reservoir towards Bassin Blanc, the crater of an inactive volcano surrounded by dense forest, and on to Chemin Grenier.
Or you can take the slow road from the south from Britannia to Souillac via Rivière des Anguilles, "where the river of life continues flowing quietly." Think of it as the road to rejuvenation.
This part of the island, known as the wild south, features endemic vegetation, nature reserves, white sandy beaches, secret forest trails, waterfalls and tropical river swims – you'd be forgiven for momentarily indulging your Robinson Crusoe fantasy, but you won't be alone.
Stay and enjoy the luxury of time and space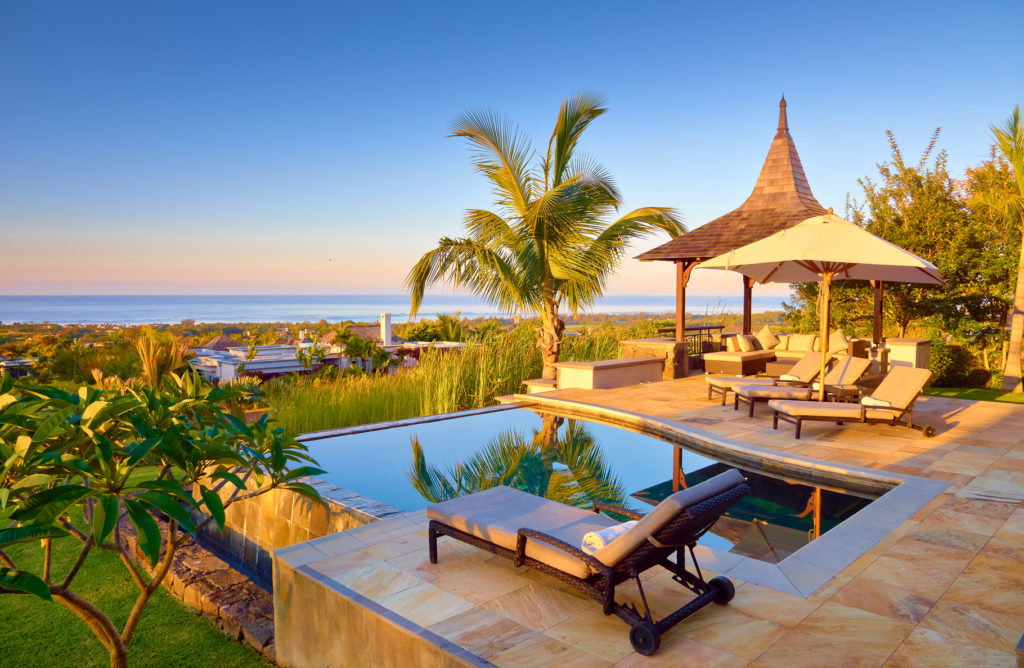 Commenting on the decision to launch long-term luxury rentals at Heritage Villas Valriche, Development Sales Manager Peet Strauss says, "We find more and more people are looking to stay in Mauritius longer before making final decisions to move countries. Others are comfortable working remotely and want to stay six months or longer with the necessary permit. We also have some investors who buy off-plan choosing to be on-site for part or all of the construction period for their new home – that's a 24-month minimum."
Previously the superluxury sustainable development catered for short stays or holiday rentals, but now renting a villa with three or four bedrooms en suite for six months or longer is an option. "Tenants will qualify to use the facilities available to the villa's owner. This means they can enjoy all the facilities of the exclusive beach club, watersports, two five-star hotels and related wellness experiences, fine dining at Le Château de Bel Ombre (19th-century colonial mansion) and the golf, among others," says Strauss.
It's like being on holiday permanently.
Feel welcome in a social community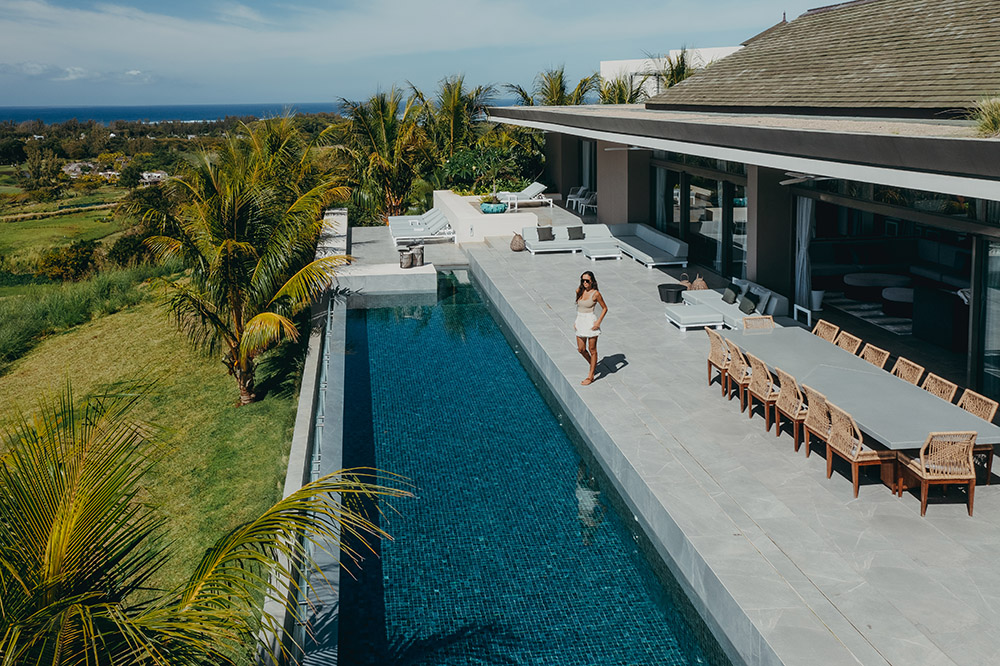 The magnificent estate environment and the outdoor lifestyle inspire activity on the golf course, walking, running, cycling, aerobics, yoga or meditation. Residents are welcoming and fun, inviting connections to a social community that thrives in the unspoilt beauty of this location. Golfers can be ready to tee off two minutes from home at Heritage Golf Club, one of the Indian Ocean's top-rated courses, host to the AfrAsia Bank Mauritius Open every alternate year. The newly designed La Réserve Golf Course on the prestigious oceanfront property provides a change of scenery and topography with uninterrupted sea views and the only downhill 18-hole championship course on the island.
Much like Crusoe may have encountered a diverse range of wildlife on his island, the 1,300-hectare Bel Ombre Nature Reserve, which overlooks the residential estate, is home to deer, wild boar, hares, monkeys and endemic birds and plants. It has been awarded the Man and the Biosphere certification by UNESCO, which aims to establish a scientific basis for enhancing the relationship between people and their environments. Explore at your leisure and choose from a night safari, discovery or adventure trails, mountain bike rides, or quad bike experiences or simply pack a picnic and relax and enjoy the luxury of space.
Real estate options – spoilt for choice
Real estate investors who buy land at Heritage Villas Valriche can select the architect and builder to design and construct their dream home according to the estate's architectural and landscaping guidelines. Buying a serviced plot will suit the buyer who wants to visit the site often during construction and manage expenditures. This is where long-term rental appeals.
The alternative is buying in VEFA (Vente en État Futur d'Achèvement), off-plan, which means purchasing a contemporary villa designed by South African architects Greg Scott + Partners or a classic villa designed by local firm JFA Architects. In this case, the seller transfers his property rights and ownership of existing structures to the buyer. In return, they make payments gradually in line with construction progress. The bank guarantees delivery of the property in case the developer does not meet his obligations. Meanwhile, the buyer qualifies for residency immediately once the deal is concluded. "These villas are designed to connect and blend with the natural world outside, allowing residents to live a life that fully embraces the beauty of Mauritius and the Heritage Bel Ombre estate," says Scott.
A golf cart is part of the package, adding to the fun and ease of getting around your "Garden of Eden". To find out more about the remaining properties at Heritage Villas Valriche, please contact Peet Strauss at +230 5423 5071 or email projects@pamgolding.mu