Welcome to your happy place: Mont Choisy La Reserve
The seventh World Happiness Report ranks Mauritius as the happiest country in Africa. Imagine what it's like to live there.
Between the filao tree-fringed stretch of coastal road next to Mont Choisy Beach and the fields of sugar cane that once represented the main driver of the Mauritius economy lies an extremely valuable pocket of land that has been transformed from sugar estate and farm into luxury residences for discerning buyers.
Mont Choisy Le Parc Golf & Beach Estate is the address for foreign investors keen to immerse themselves in island life, permanently or otherwise. Leading master planners and architects WATG have collaborated with Macbeth Architects + Designers in Mauritius to ensure the effortless integration of their design into the natural surroundings, without losing any of its original charm.
Driving into the area from the sugar-cane side you might notice an imposing wrought-iron gate on one corner of the property, hinting of a magical secret garden beyond the shadows, but the big reveal is reserved for those who enter at the main gate further along the boundary wall of black volcanic rock. Residents, visitors and guests who arrive to play golf at the only 18-hole course in the North are greeted by an impressively long driveway worthy of such a prestigious lifestyle estate flanked by flame trees. In summer, the sight of them in full bloom is one you'll never forget.
Smart Estate
The prestigious Mont Choisy Le Parc Golf & Beach Estate development forms part of a forward-thinking Smart Estate project purposefully designed to encourage integration of the communities from the popular tourist hub, Grand Baie, and the village of Mont Choisy.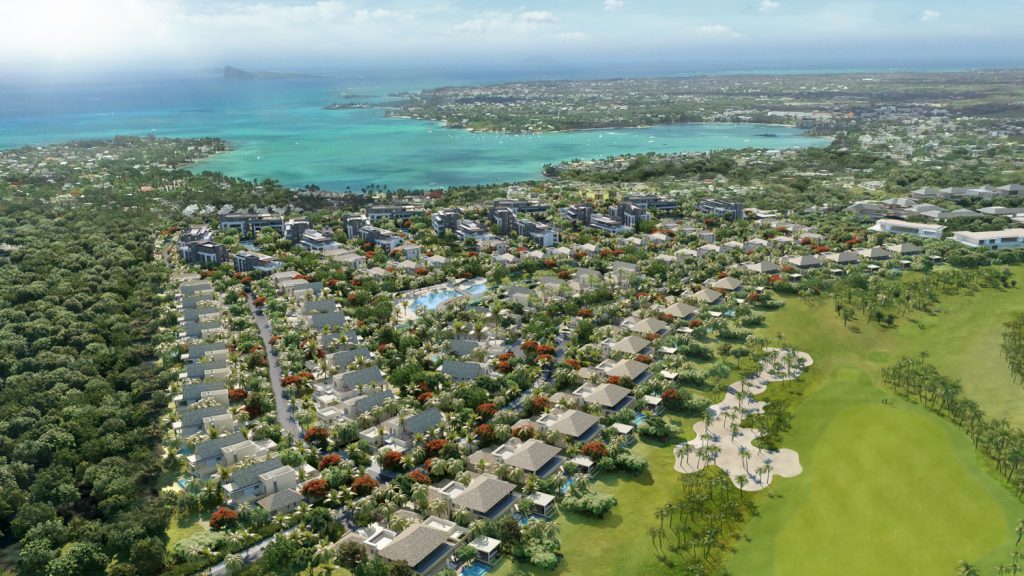 Mont Choisy La Réserve is the third phase of the development, approved under the Smart City Scheme and registered with the Economic Development Board of Mauritius as regards licensing for sales to foreigners. An investment of US$500,000 or more secures permanent residency for them and their immediate families while they own property on the island.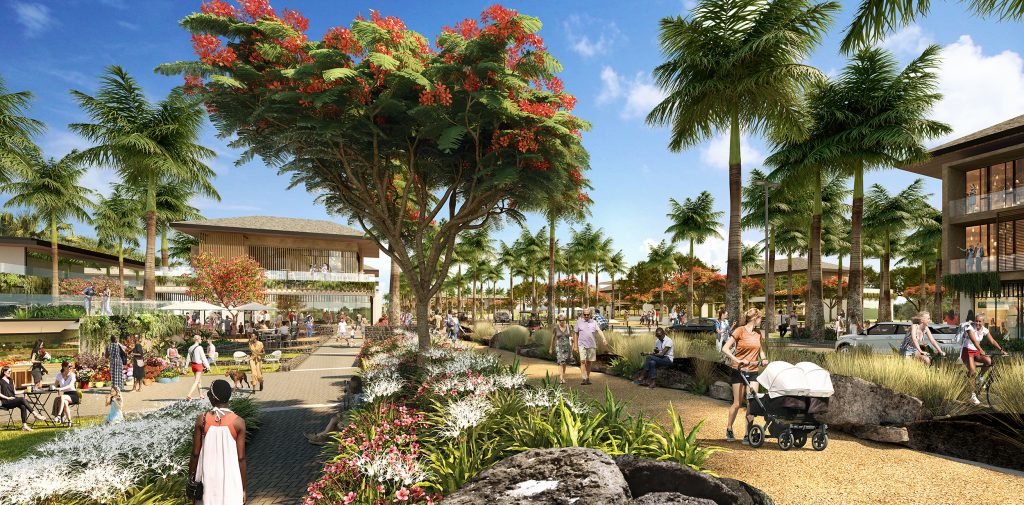 A major focus of the Smart Estate is a Boulevard and Parkway between the villages, which will create a walkable precinct devoted to walkers, runners and cyclists keen to indulge in their chosen form of physical exercise surrounded by the tranquil beauty of the Mauritius landscape. Le Coeur de Mont Choisy, an untouched and protected heritage site, is also nearby. Families and friends can meet for a stroll, visit the playground, or sit and chat in the landscaped grounds.
Furthermore, the plan includes a retail space, cafés and restaurants, offices and entertainment facilities, an endemic arboretum, schools and medical amenities. Eco-Smart systems include solar panels, rainwater collection (the golf course uses 100% treated wastewater) and transport hubs for electric cars, eBikes and buggies. It's all about sustainability.
The Mauritius investment
What do property investors get when they buy there? A luxurious home environment they'll be loathe to leave except to explore more of this tropical island's treasures. Rooted in heritage, which is another USP, the world-class residential estate boasts spacious private villas and apartments filled with light and views of the immaculate greens and indigenous landscape dotted with volcanic rock, the Peter Matkovich-designed championship golf course, swimmable lagoon, terrace pools (or a plunge pool if you're fast enough to secure a penthouse) and a range of leisure amenities.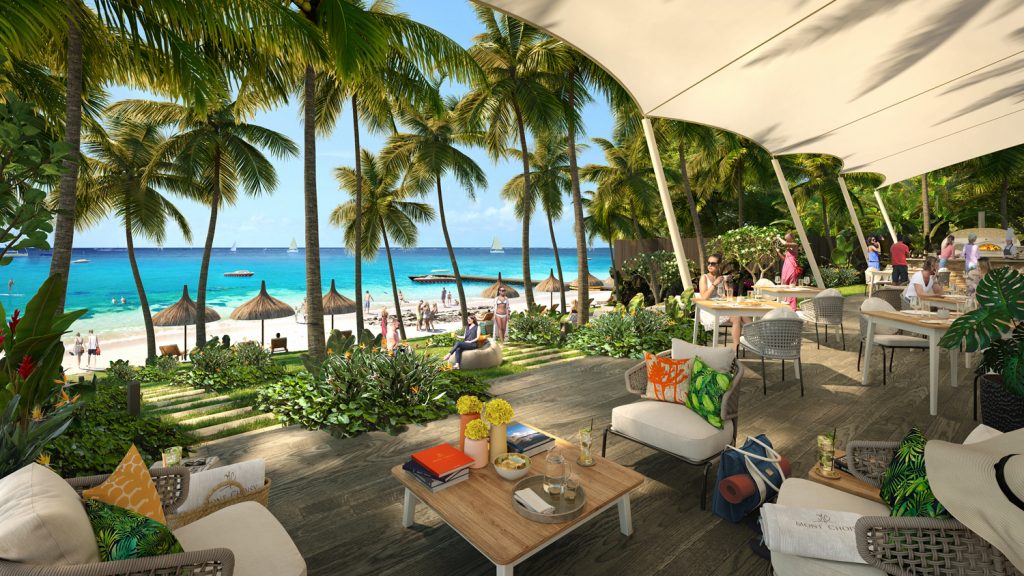 The clubhouse is a drawcard for residents and members who want to relax in a welcoming and friendly atmosphere, socialise with friends and family, and relish the comfort and services you would expect from an upmarket club, which includes a well-stocked Pro Shop for all your golfing needs. The pièce de résistance just might be the Mont Choisy Le Beach Club with its magnificent views of the sparkling Indian Ocean and endless opportunities for lounging, tanning, walking or running along this pristine stretch of white sandy beach.
Number one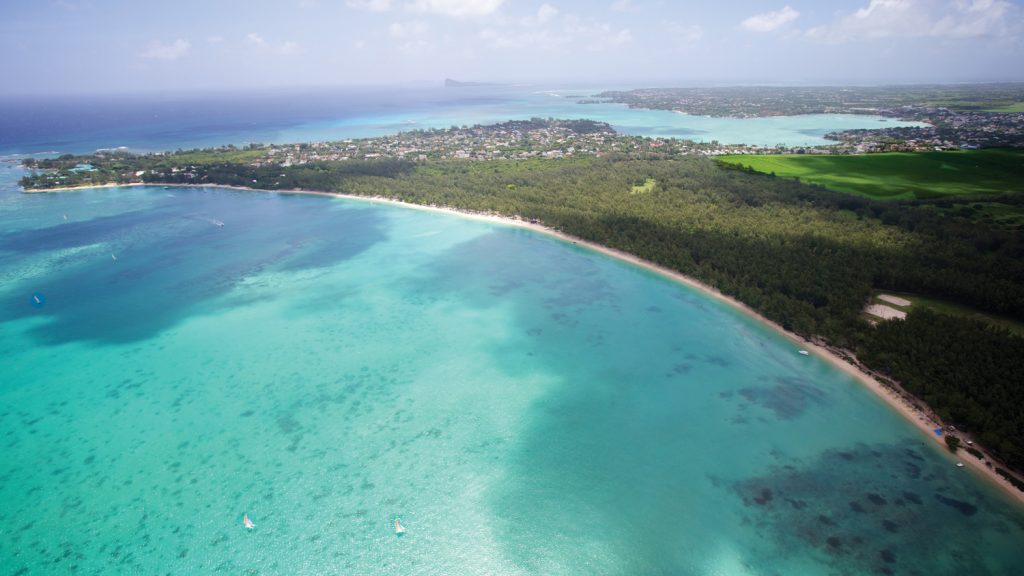 Ranked #1 in Africa in leading global indices, Mauritius is widely recognised as one of the best-administered economies on the continent and an ideal environment in which to live, conduct business and invest. This is partly due to low levels of taxation, such as a corporate tax rate of 15%, no inheritance tax and no capital gains tax. Double taxation agreements have been concluded with 44 countries including the United Kingdom, France, South Africa, India and China.
In addition, the seventh World Happiness Report, launched in 2012 in support of a United Nations high-level meeting on 'Wellbeing and Happiness: Defining a New Economic Paradigm' this year focuses on 'happiness and community: how happiness has been changing over the past dozen years, and how information technology, governance and social norms influence communities'.
Mauritius ranks the happiest country in Africa, at number 57 of the 156 countries evaluated. What better motivation could there be to own a home at Mont Choisy La Réserve and enjoy the best of contemporary island living, where a world of tropical sunshine, exquisite beaches and amazing company await you. contact Pam Golding Properties Grand Baie on
For more information contact us on  lareservemc@pamgolding.mu